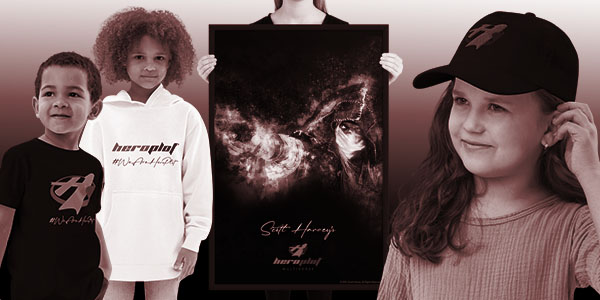 For Immediate Release: Oslo, Norway
December 7, 2021
HEROPLOT announce details of officially licensed merchandise and the first stage of intended brand expansion.
Since the publication of The Spear of Destiny, the first book in the HEROPLOT series earlier this year, HEROPLOT has expanded its presence online and across social media channels such as TikTok and Facebook, with the recent marketing campaign, the #heroplotchallenge.
In the next step of market expansion, HEROPLOT is initially extending its brand across clothing and limited-edition artwork prints.
FROM THE AUTHOR
"I must admit it is happening sooner than I had expected, but that is also a reflection of the market and the interest expressed,"  says author and HEROPLOT creator, Scott Harvey. "If you look at the traffic on the website alone, the growth has been incredible. After the Kindle version of the first book was released over the summer, the traffic jumped something like 12,000%. What's more interesting is to see that since then, the traffic has just continually increased, averaging a monthly cumulative growth of between 70% and 160%. So, all in all, in comparison to the start of the year… there is no comparison.

I did a quick check this morning and the traffic difference between May and November is approximately 46,700%. It's just staggering, and a result I think of many factors: the launch of the first book, the online campaign, the blog, changes to the site, as well as increases in links online. In short, HEROPLOT has a far greater presence now than it had at the start of the year, and a part of that growth is the interaction it has with fans of the brand.

Personally, I think it speaks volumes when people send emails and ask where they can buy posters of the artwork? It shows more than interest, it shows engagement - a desire - and being able to satisfy those desires is what HEROPLOT is all about. Fans and followers. This is something I have always tried to echo since the beginning, even before the first book was written. Of course, it's flattering that people call it "Scott Harvey's HEROPLOT", but HEROPLOT is so much more than a series or the property of any one person. It's more than a community. It's a fanbase, a movement if you will... which is why I never registered "heroplot" for use across social media. I have always used the hashtag "#WeAreHeroPlot" because it summarises the concept, and I'm happy to also be able to bring this aspect into the clothing designs, especially for kids, and for those whose imaginations sometimes set them apart or leave them feeling isolated from the rest. I think it's good to know that you are never alone. That the power to be a hero lies inside everyone and that together WE ARE HEROPLOT. It's really an extension of the brand, and where I'm keen to illustrate more and more.

I did envisage a time in the future when the possibility of licensing might add value, but it seems that time has already arrived. So, rather than rush out and put the brand on everything in the first phase, I've selected a few items such as Canvas and Lustre Prints which work well for large formats, so that fans who want to collect them or showcase them in their homes, can do so. In addition to the artworks, I've selected a limited number of clothing items, colours and styles, that are mainly for children and youth segments, with some headwear items for adults. It's important that we take this area of the business a step at a time, to allow us to evaluate what's working and how and where to improve. For example, with direct-to-garment print or embroider techniques, and even suppliers for that matter, if our fans feel that any item fails to reflect the quality of HEROPLOT itself.

It's an exciting phase of development, and one that offers the option to take HEROPLOT and The HEROPLOT Multiverse further into the daily lives of readers and fans alike, especially with the second book in the series due for release next Spring, where I hope we can also tie in some exclusive launch items for collectors."
A preview of officially licensed HEROPLOT merchandise can be found at: https://www.heroplot.com/merchandise/.
HEROPLOT: The Spear of Destiny  is available for eReaders (eBook ISBN: 978-8269258523) and paperback (ISBN: 978-8269258509), at all leading bookstores including Barnes & Noble and Waterstones.
HEROPLOT: The Absolution of Kane  is available for pre-order now only on Amazon (eBook ISBN: 978-8269258561).
ABOUT THE AUTHOR
A modern visionary, Scott Harvey is an international award-winning designer, who has spent over twenty years working with start-ups, globally established brands, and Fortune 500 companies. It is fair to say that Scott has always been a creative perfectionist, and that his determination is probably the main reason behind his long and varied creative career. While his mind has always been on helping clients and creating new solutions to often age-old problems; his background and love of all things film perhaps best explains his journey into storytelling, and affinity for character development, dialogue, as well as the occasional twist. In 2017, Scott took the decision to finally focus on creating a vision that he himself wanted to share, and after plotting an entire array of characters and worlds, released the first instalment from his epic HEROPLOT series, The Spear of Destiny, into the literary world in August 2021.
ABOUT HEROPLOT
HEROPLOT is a creative, family-oriented, entertainment company, founded by Scott Harvey.
Located in Norway, HEROPLOT is focused upon the creation of exciting and engaging characters who combine to comprise The HEROPLOT Multiverse, where the diversity of characters and storytelling provide allure and appeal to fans and followers from all age groups, genders, and types.
With interaction, engagement and compelling narratives, HEROPLOT aims to fuel the minds of fans around the globe with access to heroic and opposing villainous characters through a range of books, mobile apps and games.
For more information about HEROPLOT and The HEROPLOT Multiverse, please contact:
HEROPLOT Media Relations
Email: media@heroplot.com