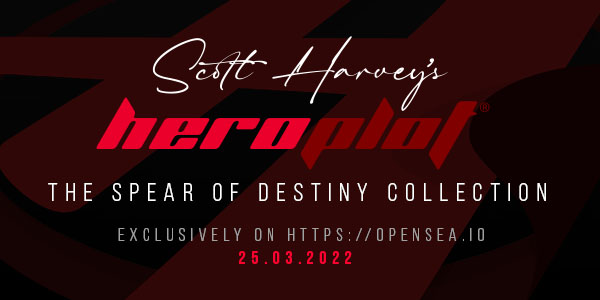 For Immediate Release: Oslo, Norway
March 3, 2022
HEROPLOT announces The Spear of Destiny Collection exclusively at OpenSea.io.
Following the recent announcement from Scott Harvey, the creator of HEROPLOT, that a collection of artworks inspired by the characters from the first book in the HEROPLOT series would be appearing at auction, Harvey is today able to confirm the release.
On 25.03.2022, The Spear of Destiny Collection: Part I will be open to collectors seeking to take advantage of this exclusive opportunity only on OpenSea.io.
NFT OWNERSHIP
Comprised of fourteen unique pieces, The Spear of Destiny Collection will be delivered through two individual auction drops using the NFT blockchain. Part I of the collection includes the now iconic piece, Then Death has Come, which was not only used as the artwork for the cover of HEROPLOT: The Spear of Destiny, but also to launch the multiverse itself.
STUNNING HIGH-DEFINITION ARTWORK
Each piece in the collection is available for collectors in uncompressed high-definition files to ensure lossless quality that is not only suitable for the highest resolution digital screens, but for large-format print.
INCREDIBLE VOLUME OF BONUS CONTENT
As the first ever auction of Harvey's work, the use of NFT technology allows the artist to offer collectors an incredible array of exclusive bonus content that includes:
An exclusive, never publicly exhibited artwork of Commander Reams which you will own forever, even if deciding to sell, trade, or transfer the NFT of your purchased artwork at a later date.
A signed and personally inscribed copy of HEROPLOT: The Spear of Destiny, shipped anywhere in the world to your preferred location.
Exclusive citizenship to Luxartia: a world within The HEROPLOT Multiverse.
An exclusive Collector's Coin and presentation case, minted and engraved with a unique citizenship number that will open a host of value-added services and benefits for the holder in both the real and virtual world.
Your very own unique character avatar from the world of Luxartia, which can be used in all future HEROPLOT games and apps, as well as in your profiles across social media.
Your matching and unique HEROPLOT Battle Card, based upon the abilities, strengths, and powers of the avatar.
A SPECIAL SURPRISE FOR A SPECIAL COLLECTOR
A collector of work from The Spear of Destiny Collection, will be selected at random and invited to meet with Harvey. More than a simple meet and greet, you will be invited to share aspects of your personality, your likes, and dislikes, to inspire a character who will feature from the planet Luxartia in a HEROPLOT book later in the series.
This unique opportunity is a chance for you to become a part of history, immortalised forever within The HEROPLOT Multiverse.
A unique and very special gift that you may take for yourself or choose to donate to any family member or friend.
PROMOTION AND FOLLOWING
The Spear of Destiny Collection: Part I can be previewed at https://www.heroplot.com/artwork/ where each piece is also presented with descriptions, methods and techniques in creation, as well as details of each piece for closer inspection.
A Promotional Video for the collection has now been released and can be viewed on: YouTube, Tik Tok, Instagram, LinkedIn, and Twitter.
Harvey has also released a personal message confirming details of the auction here.
Don't miss this unique opportunity to own a piece of The Spear of Destiny Collection, and follow HEROPLOT on social media with the #weareheroplot hashtag, or SUBSCRIBE to The HEROPLOT Newsletter.
ABOUT HEROPLOT
HEROPLOT is a creative, family-oriented, entertainment company, founded by Scott Harvey.
Located in Norway, HEROPLOT is focused upon the creation of exciting and engaging characters who combine to comprise The HEROPLOT Multiverse, where the diversity of characters and storytelling provide allure and appeal to fans and followers from all age groups, genders, and types.
With interaction, engagement and compelling narratives, HEROPLOT aims to fuel the minds of fans around the globe with access to heroic and opposing villainous characters through a range of books, mobile apps and games.
For more information about HEROPLOT and The HEROPLOT Multiverse, please contact:
HEROPLOT Media Relations
Email: media@heroplot.com