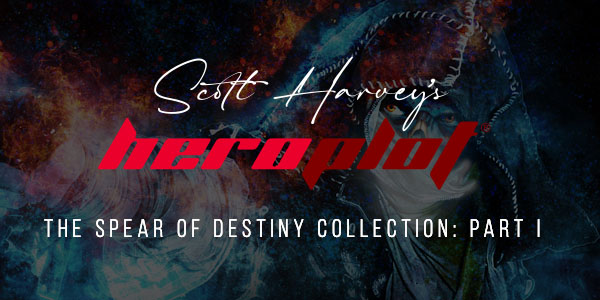 ORIGINAL GRAPHIC ART WITH NFT OWNERSHIP FOR COLLECTORS
A Unique Opportunity To Own Original Artworks From HEROPLOT Creator, Scott Harvey
The release of The Spear of Destiny, saw the long-awaited launch of The HEROPLOT Multiverse.
Scott Harvey's debut novel, The Spear of Destiny, saw the long-awaited launch of The HEROPLOT Multiverse and gained immediate praise amongst critics and readers alike spending its first month as a #1 Hot New Release on Amazon.
Today, Harvey is proud to announce The Spear of Destiny Collection.


"It all started really after the initial feedback from the book. I understood immediately that reader's felt affinities towards certain characters, the same as they felt repulsion towards others.

As an author, written description, insight, and motivation, all create an image of character in a reader's mind. In that space, these images differ greatly, which is why they are often let down when a film or tv serialisation of a book tries to turn the reader's imagination into a single physical representation. A representation that to some may be as expected, yet to many seem lacking or not as they had once envisaged.

Of course, I too have my own visions, and I began to create various portraits and key scenes from the book, not to say this is how this character is, or how this scene "happened", but rather, this is how I saw it. How I imagined things at the time of writing.

In all honesty, I've never really cared too much for convention. I know that authors rarely visualise their characters in physical form outside of graphic novels, but I wanted to do so. I'm a trained graphic artist working in the industry for over 20 years, so for me, it was not only important to have a visual record of the characters, but to be able to show fans and readers how I imagined them. This opens debate for interpretation I know, but more importantly I think, it opens the door for other artists to be able to say, "Ok, I see your version of this character, by the way, here's mine."

I think that's how things should be. That's the landscape of creativity. There's never ever been one version of Bruce Wayne or Peter Parker, so why should there only be one version of Edgar Spear? Mannerisms and motivational traits may stay the same, but the physical representation of these characters change, they evolve, and what's interesting is to compare the original versions of these characters with those that have followed. It's not a contest about whose is best or whose is most loyal to the text, it's about interpretation and relevance, which of course by themselves are two traits that challenge the very notion of convention.

If one thinks about the concept of "fan art", I can't think of a better expression for a creator than to pay homage to something that has touched or motivated them. I would love to see fans of HeroPlot create their own visualisations of these characters and share them with the world. Why not? That's how it should be. I keep saying we are HeroPlot because I mean it. I am not HeroPlot, I'm a part of it. The readers, the fans, together… #WeAreHeroPlot.

Because I have never exhibited my work before in such a context, I wanted to make this collection extra special. We live in a flux. A modern world in constant change and I see that also in the artworld. NFT's and digital art are becoming increasingly widespread, and I believe they also offer artists greater opportunity.

The Spear of Destiny Collection will be offered up for auction using NFT signatures with additional incentives for collectors, including the possibility to become an actual character in HeroPlot. To not only own a piece of history but become a part of it. I could never do that or offer such opportunity to a collector with canvas or print, but I can through NFT's, and my hope is that this collection is merely the first. I'm already working on artwork for The Absolution of Kane Collection which will be released later this year." Scott Harvey, Creator of HEROPLOT
Stunning High-Resolution Digital Art
The Spear of Destiny Collection is the first time that Harvey has presented his artwork for auction and ownership.
In total, The Spear of Destiny Collection is composed of fourteen unique works. The collection itself is split into two, with each drop containing seven individual pieces from the collection. Part I also includes the artwork, Then Death has Come. This iconic piece was used as the cover of the first book and not only launched the series but the multiverse itself.
Details of the drop and opportunity to own these exclusive artworks from Scott Harvey will follow shortly. To stay informed about the up-and-coming auction, subscribe to The HeroPlot Newsletter.
The Spear of Destiny Collection: Part I can be found here in the virtual gallery, or by following ARTWORK in the main menu.