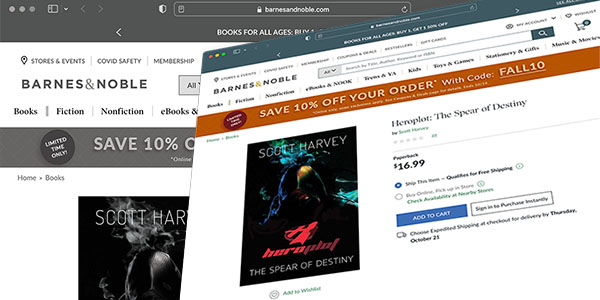 INCREASING ACCESSIBILITY THROUGH BOOKSTORES
Meeting reader preference in both the virtual and physical world
After a highly successful eBook launch on Amazon in July 2021, HEROPLOT: The Spear of Destiny, was released shortly after in paperback format, exclusively through the online retailer.
Today, HEROPLOT is proud to announce that The Spear of Destiny is now available throughout the United States at Barnes & Noble.


"It has always been my goal to make my books available to everyone, everywhere.

We live in an increasingly digital world where everything is online and available to be consumed at any time. For many, a Kindle or tablet has become the norm for reading literature. For others, nothing quite compares to the feel of holding a physical book and turning its pages.

As a new author without the infrastructure and persuasive might of a large publishing house behind me, navigating the field of logistics and distribution, wholesale and retail outlets is something that I was eager to learn and understand quickly.

Being able now to say that anyone can walk into a Barnes & Noble store and order a copy of The Spear of Destiny, is both an enormous relief and an extremely exciting prospect." Scott Harvey, Creator of HEROPLOT
Global Demand
Within the first weeks of sale, The Spear of Destiny amassed sales online from over thirteen different countries, including the United States, the United Kingdom, Norway, Switzerland, Australia, New Zealand, France and Germany.
As HeroPlot now extends distribution into physical brick and mortar stores, book retailers, and outlets, The Spear of Destiny will soon become available in other leading bookstores, including Walmart, Blackwells, Gardners, Booktopia and Adlibris.
For details of availability near you, contact your local bookstore, library or preferred outlet and enquire about HEROPLOT: The Spear of Destiny (paperback ISBN: 978-8269258509), or contact HEROPLOT directly for details.