LIMITED EDITION PRINTS
Hand-Signed Original Prints From The Creator Of HEROPLOT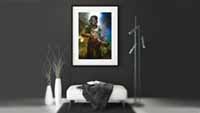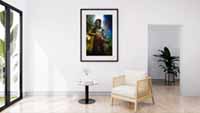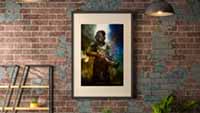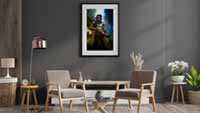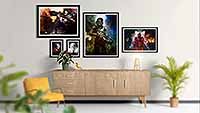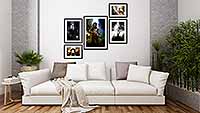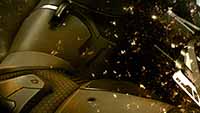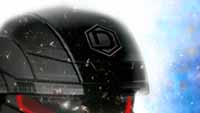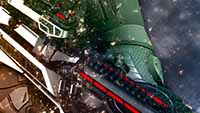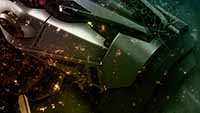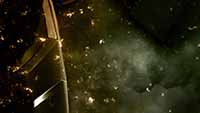 DomiForce Ranger (3rd Gen)
As The DOGMA Program expanded, over a million former convicts were now paid and trusted to protect the lives of every American citizen. Commissioner Reams was promoted to Commander Reams, taking control of the new agency; an elite troop of armed guards and rangers known only as the DomiForce.
Whilst the first rangers wore black combat suits and resembled more traditional military forces, this depiction of a DomiForce Ranger is regarded as third generation (3rd Gen), and comes from much later in HEROPLOT: The Spear of Destiny, where Edgar is no longer president, but now Supreme Leader Spear.
Options
3D modelling amd extensive hand-drawn artwork combine to create the character and preferred stance. Additional multi-layered weapon composites were created and added before basic stylisation of the character was formed. Multiple layered effects were applied to a photographic image and smoke and stylised to create the backdrop for the scene. Additional layers including dust and particle dispersions were added before final colourisation was adjusted to highlight the flames and reflective shading of the helmet, exo-suit and DomiCannon.
| | |
| --- | --- |
| Orientation: | Portrait |
| Available Sizes: | 24" x 36" (60.96 cm x 91.44 cm) |
| | 18" x 24" (45.72 cm x 60.96 cm) |
| | 12" x 18" (30.48 cm x 45.72 cm) |
| Printing Technique: | Giclée |
| Paper: | Canson Infinity Rag Photographique |
| Weight: | 310 gsm |
| Shine: | Matt |